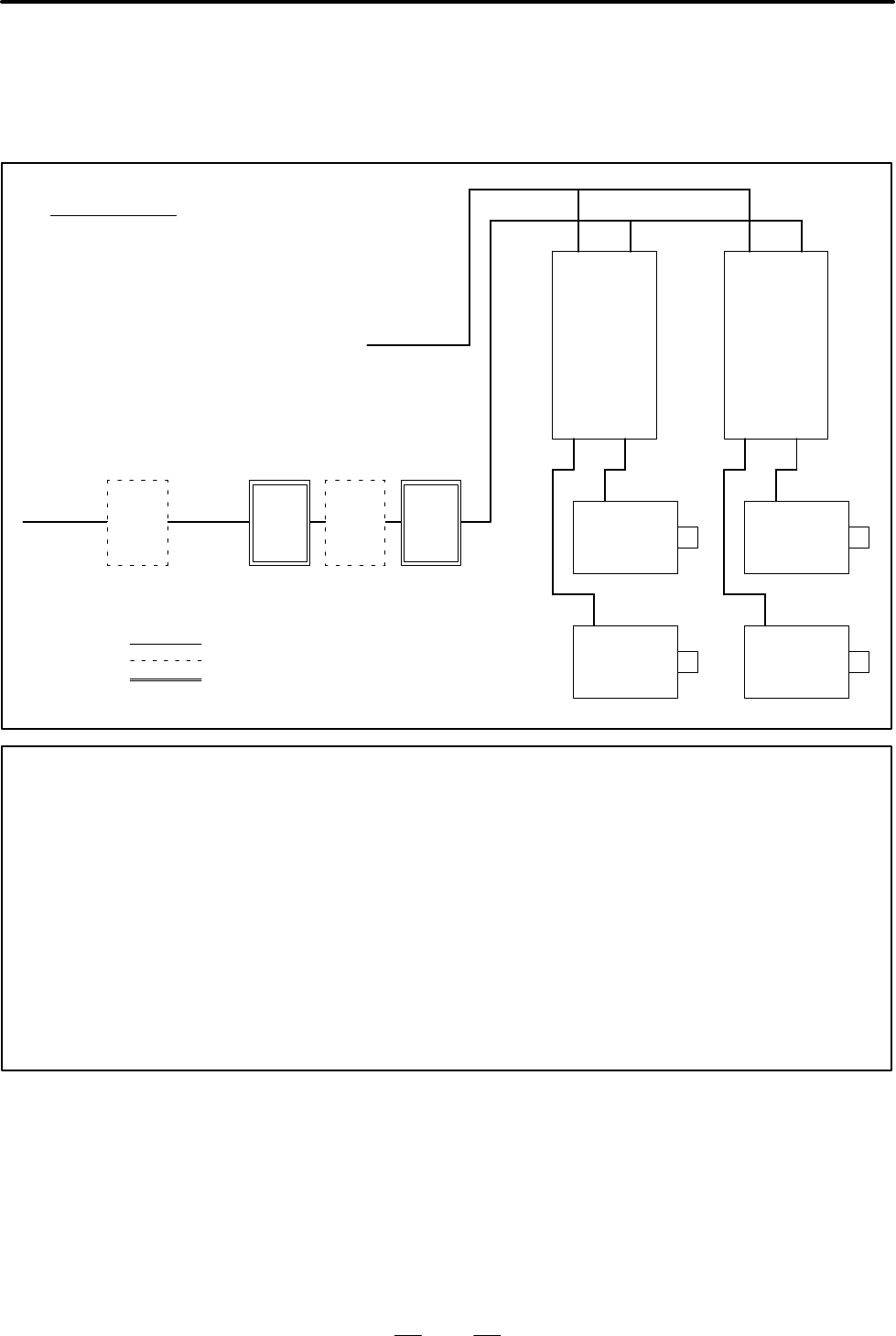 B–65195EN/01
2. CONFIGURATION
START-UP PROCEDURE
5
The basic configuration is shown below.
Refer to "FANUC CONTROL MOTOR AMPLIFIER
α
Series (SERVO
AMPLIFIER UNIT) Descriptions" (B-65192EN) for detail.
Ex. Tow SVU2s
Power Supply For
Control Circuit
Servo
Amplifier
Unit
SVU2
Servo
Amplifier
Unit
SVU2
AC200/220/230V
+10, –15%
AC
Line
Filter
(AC380V)
(AC415V)
(AC460V)
AC200V
AC220V
AC230V
Breaker
Magnetic
Contactor
Servo
Motor
Servo
Motor
Servo
Motor
Servo
Motor
(Note 1)
(Note 2)
(Note 3)Power
Transformer
: Basic
: Optional
: Units prepared by the machine tool builder
Notes
1
This circuit breaker is intended to protect the power cord and related equipment. A circuit
breaker to protect a servo amplifier unit is provided within the servo amplifier unit.
2
This AC line filter should always be used,so influence by harmonic noise to the power supply
can be reduced. When the line voltage is out of specification,and a power transformer (isolation
type) is used, the AC line filter can be omitted.
If the AC line filter is ineffective in making the servo amplifier unit satisfy EMC standards, use
an appropriate commercial noise filter.
3
The magnetic contactor is required if it is necessary to qualify for European CE marking.
4
When using the SVU,install a surge absorber between the power lines and between a power
line and a ground line at the entrance of the power magnetic cabinet in order to protect the
equipment from a surge voltage. For the SVUC, it is unnecessary to install an external surge
absorber because the SVUC has a built- in surge absorber as the C series amplifier.
2.1
BASIC
CONFIGURATION