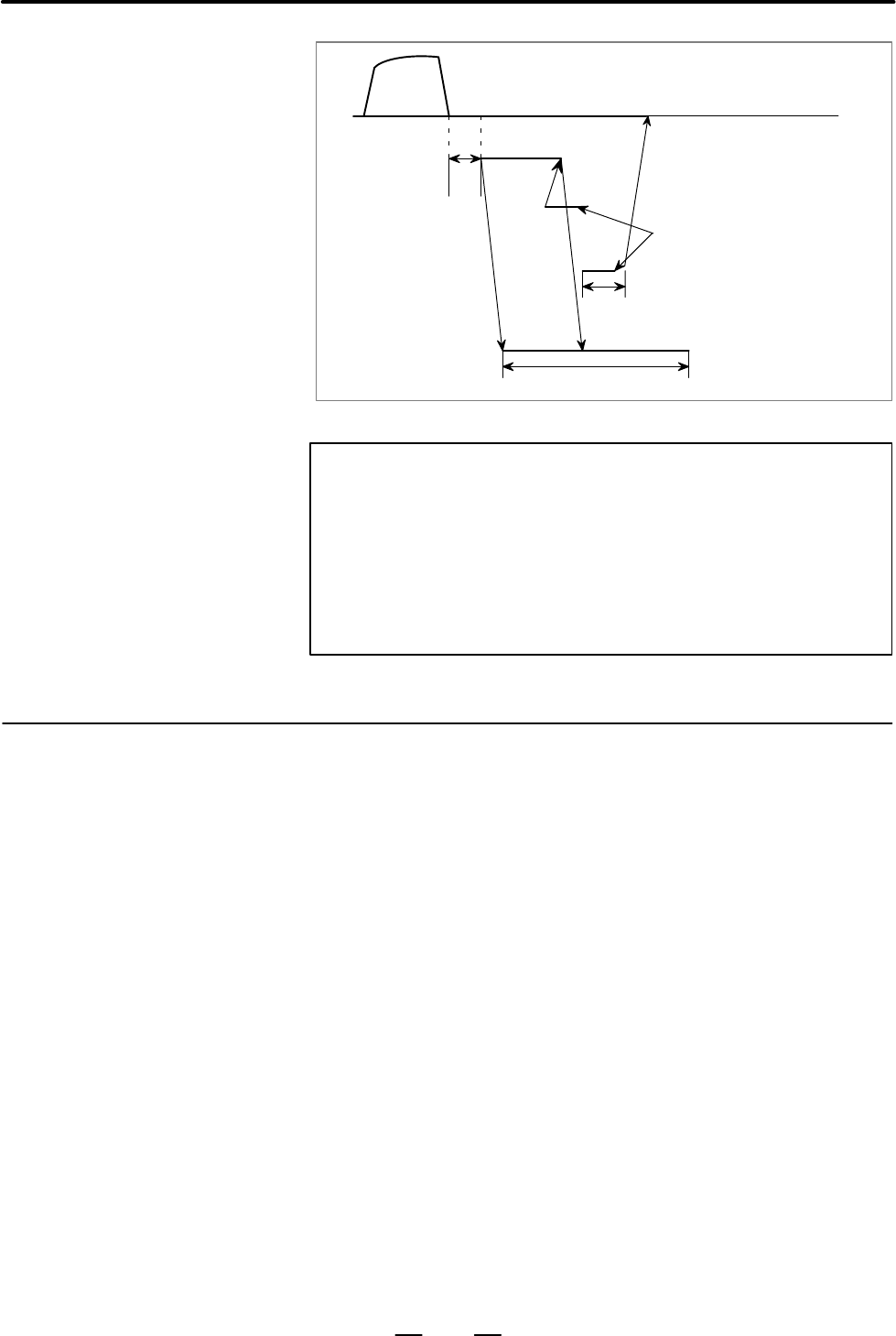 3. PRESSING FUNCTION
55
Setting in
parameter
16032
The press starts stopping.
8 ms min.
Press start
PF
*PE
*PFIN
Setting in parameter 16033
Next block
Axial
movement
Fig. 3.5.1 (c) 1
–
cycle press process in the forming mode
NOTE
1
Parameter TCF (No.16003#5) can be used to set the PF
signal to 1.
2
The PF signal goes to 0 in case of emergency stop, external
reset, or reset when the PF signal is 1. However, the PF
signal can be set to 0 after the *PE signal is set to 0
according to setting in RPF (No.16000#2).
1)
Nibbling signal (output) NBL <Y1004#1>
2)
Nibbling finish signal (input) *NFIN <X1004#6>
3)
1
–
cycle press select signal (input) CPS <G230#2>
4)
Nibbling completion signal (output) NBLE <F230#7>
When tape or memory command input is already selected, linear or
circular nibbling can be performed in the block between the G68 or G69
code or the M code for entering the nibbling mode (setting of parameter
16183) and the M code for canceling the nibbling mode (setting of
parameter 16184). When the time set in parameter 16034 elapses after the
tool is positioned at the first punch point, the PF signal goes to 1. In the
machine tool, this signal makes the press start for punch operation.
In nibbling, the PF signal goes to 1 at the same time the NBL signal goes
to 1. Since the PF and NBL signals remain 1 till nibbling is completed,
press operation can be repeated periodically without the press stopping.
When the *NFIN signal goes to 0 after completion of punching, the tool
starts moving to the next punch point.
3.5.2
Continuous Press
(Nibbling)