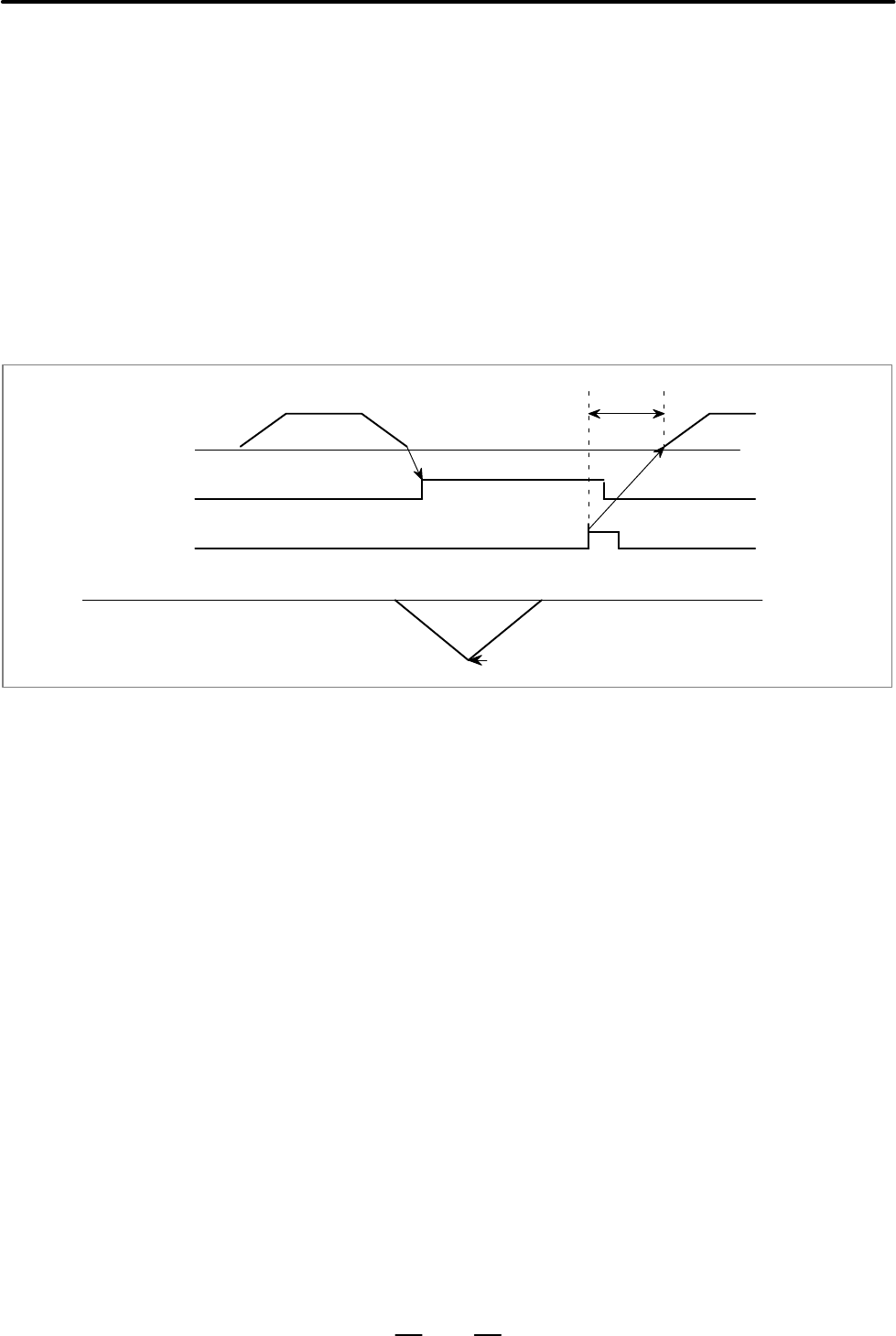 3. PRESSING FUNCTION
65
As the speed of the press mechanism increases, the time between the end
of pressing and the beginning of the next positioning has a greater effect
on the hit count of the punch press.
If the time can be estimated, the hit count of a conventional punch press
can be prevented from decreasing by issuing the punch completion signal
early. Many recent press mechanisms cannot output the punch
completion signal early, however.
This function has been developed to improve the hit rate by enabling the
controller to detect the punch completion signal at high speed and to start
the next positioning with the minimum of delay.
t
Press/nibbling
completion signal (*PFN/*NFIN) (Machine
→

NC)
Press start signal (PF) (NC
→

Machine)
Lower dead point
Press operation
Fig. 3.6 Processor high speed press control function
In a conventional system having no high
–

speed press control function, the
time t indicated above is set to 19 ms (fixed) plus a variation of up to 2
ms. The time t can be reduced to 2 ms if the *PFIN or *NFIN signal is
output 19 ms earlier than the estimated press end time.
If the press operation cycle is constant, the time interval between the end
of a press operation and the beginning of positioning can be specified by
issuing *PFIN or *NFIN early. Recent systems vary the press operation
cycle, depending on the thickness of the workpiece and other conditions.
Such systems cannot output *PFIN or *NFIN early, however.
To compensate for this disadvantage and improve the hit rate, recent
systems must detect the *PFIN or *NFIN signal at high speed and start
the next positioning with the minimum of delay. When this function is
used, the time t indicated in Fig. 3.6 can be reduced as follows:
1
When high
–
speed DI is used:

Fixed time of 1 ms + variation of up to
2 ms
2
When an I/O card is used:
Fixed time of 5 ms + variation of up to
2 ms
3.6
HIGH SPEED PRESS
CONTROL FUNCTION
Timing diagram
Processor high speed
press control function