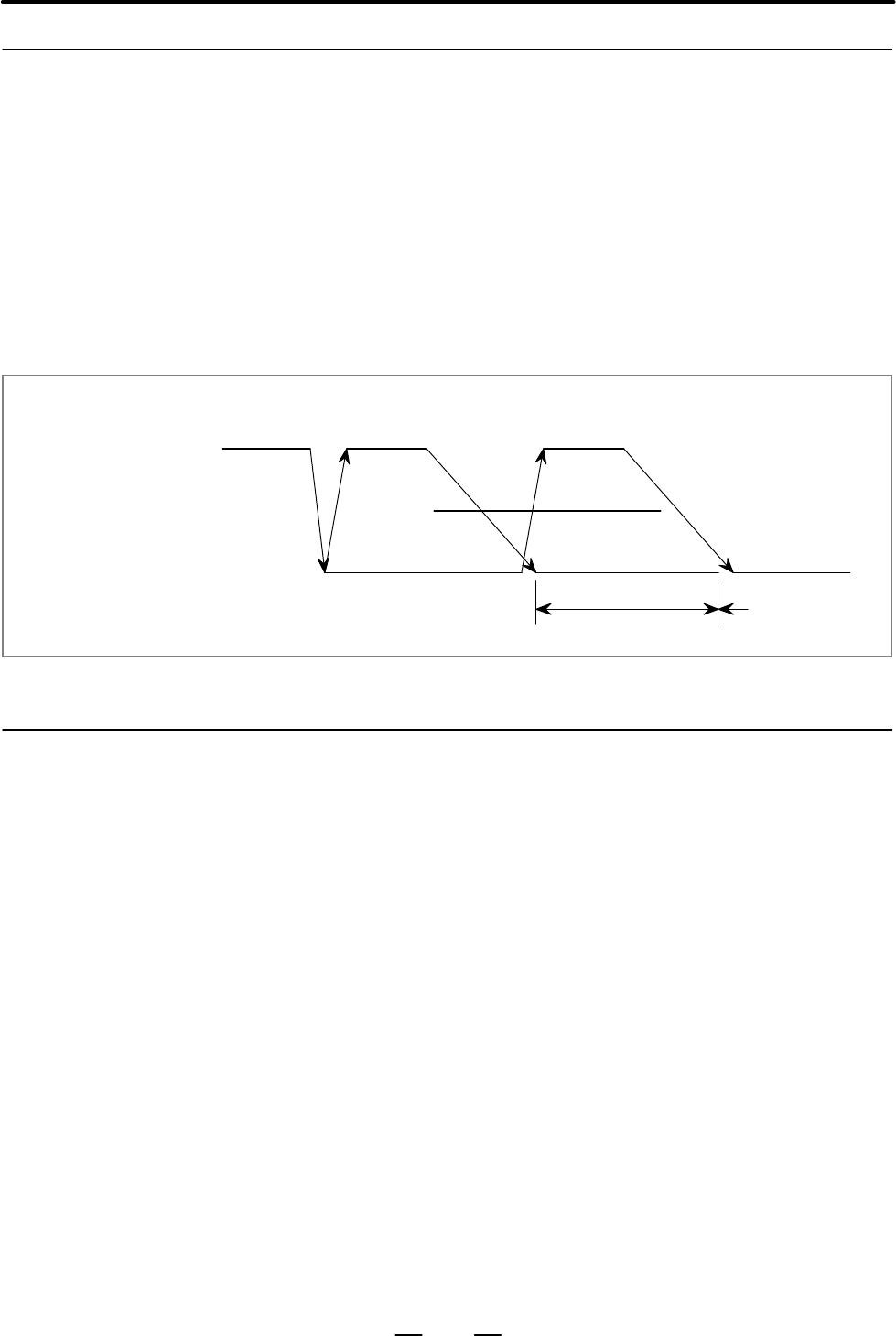 5. TOOL FUNCTION (T FUNCTION)
86
If T command neglect signal (input) TNG is 1 when a T code is
commanded by tape, MDI, or memory command, the commanded T code
is ignored. When a block information is read and a T code is included in
the block, the control unit calculates the moving quantity of the turret axis
from the position of a tool corresponding to the commanded T code on
the turret axis and the present turret axis position.
The signal TNG condition at this time is effective. When signal TNG is
1 at this time, the commanded T code is ignored, the moving quantity of
the turret axis is not calculated signal TF is not turned to 1 after the
executing block motion has been completed, and also the turret axis is not
positioned. Be careful with the difference from auxiliary function lock
signal AFL and press lock signal PFL.
Read of a block
and calculation
TNG
Execution of block
T function is
executed.
T function is
not executed.
Fig. 5.3.1
When the T code is instructed by the tape, MDI, or Memory command,
the turret axis positioning operation can be made to allow the tool
corresponding to the the instructed T code to be selected. The position
where the selected tool is punched by press operation and that where tools
are replaced may differ depending on the machine. In this case, the tool
to be replaced can be shifted to the replacement position in the manual
mode. In addition, the tool to be replaced can be readily positioned to the
replacement position by the following approach. Namely, the tool is
positioned to the tool replacement position corresponding to the
instructed T code, the T code of the tool to be selected is set to the
punching position in the tool change screen of the tool registration screen
beforehand. If the T code is instructed when the tool change signal (input)
TCNG is 1 by the MDI command, the control unit carries out processing
as if the T code set in the tool change screen was instructed for the
instructed T code. In other words, the tool corresponding to the converted
T code is positioned to the punching position and the converted T code
is output as the T code signal.
The signal TCNG is valid only for the MDI command. Also, the signal
TNG is valid even if the signal TCNG is 1.
5.3.1
T Command Neglect
Signal (Input)
TNG <G233#5>
5.3.2
Tool Change Signal
(Input )
TCNG <G233#6>