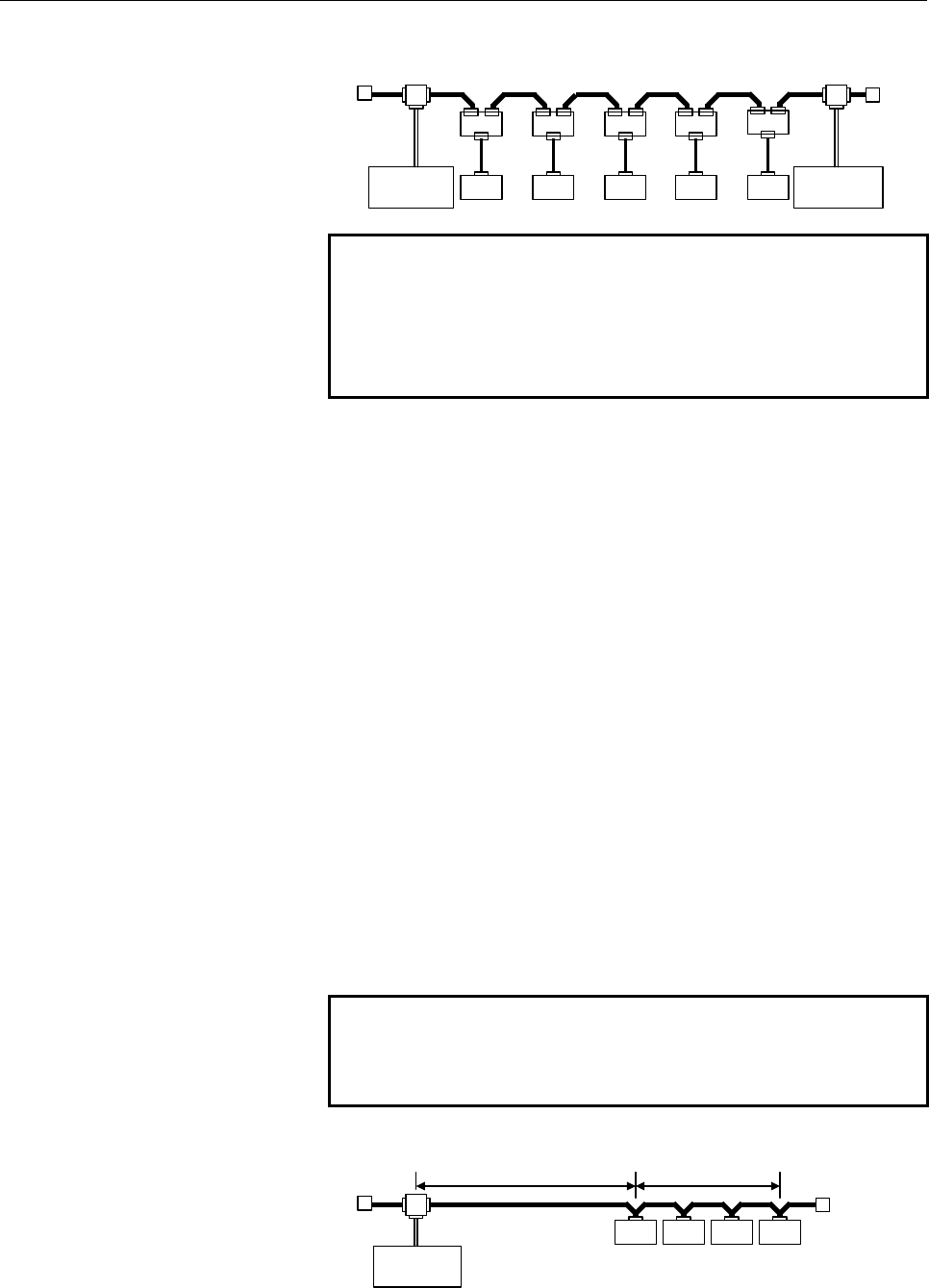 1.CONNECTING THE DeviceNet
CONNECTION
B-64044EN/01
- 52 -
(4)
When redundant power supplies are used
Terminator
Power supply
for
communication
erminato
Power tap
Power supply
for
communication
Power tap
NOTE
When the amount of current passing through
thick-wire cables are more than 8 A even if the
position of the power supply for communication is
changed, use multiple power supplies to satisfy the
power supply conditions.
When thick-wire cables are used in configuration (1), up to 8 A of
current can be supplied to the main line on either side of the power
supply.
Therefore, a configuration that uses current of up to 16 A is
allowed.
When a thin-wire cable is used as
the main line, if the amount of
current passing through the thin-wire cab
le is more than 3 A, consider
replacement with a thick-wire cable to satisfy the conditions.
Factors for determining the position of the power supply
The factors for checking if power
can be successfully supplied are the
amount of current required by nodes and the voltage drop by a cable.
Calculate the following values in advance.
- Amount of current required by nodes
- Distance from the power supply
How to calculate the power capacity
The following two methods can be used to calculate the power
capacity of main lines.
(l) Rough calculation by the graph
(2) Calculation by the expression (calculating the voltage drop by
using the resistance of a communication cable and the power
consumption)
NOTE
For each branch line, it is necessary to satisfy the
conditional expression for obtaining the current
capacity of the branch line using the branch length.
Terminator
Power supply
for
communication
erminator
Power tap
ssume this distance
is zero.
Distance from the power supply
to the farthest node or branch
tap on the main line