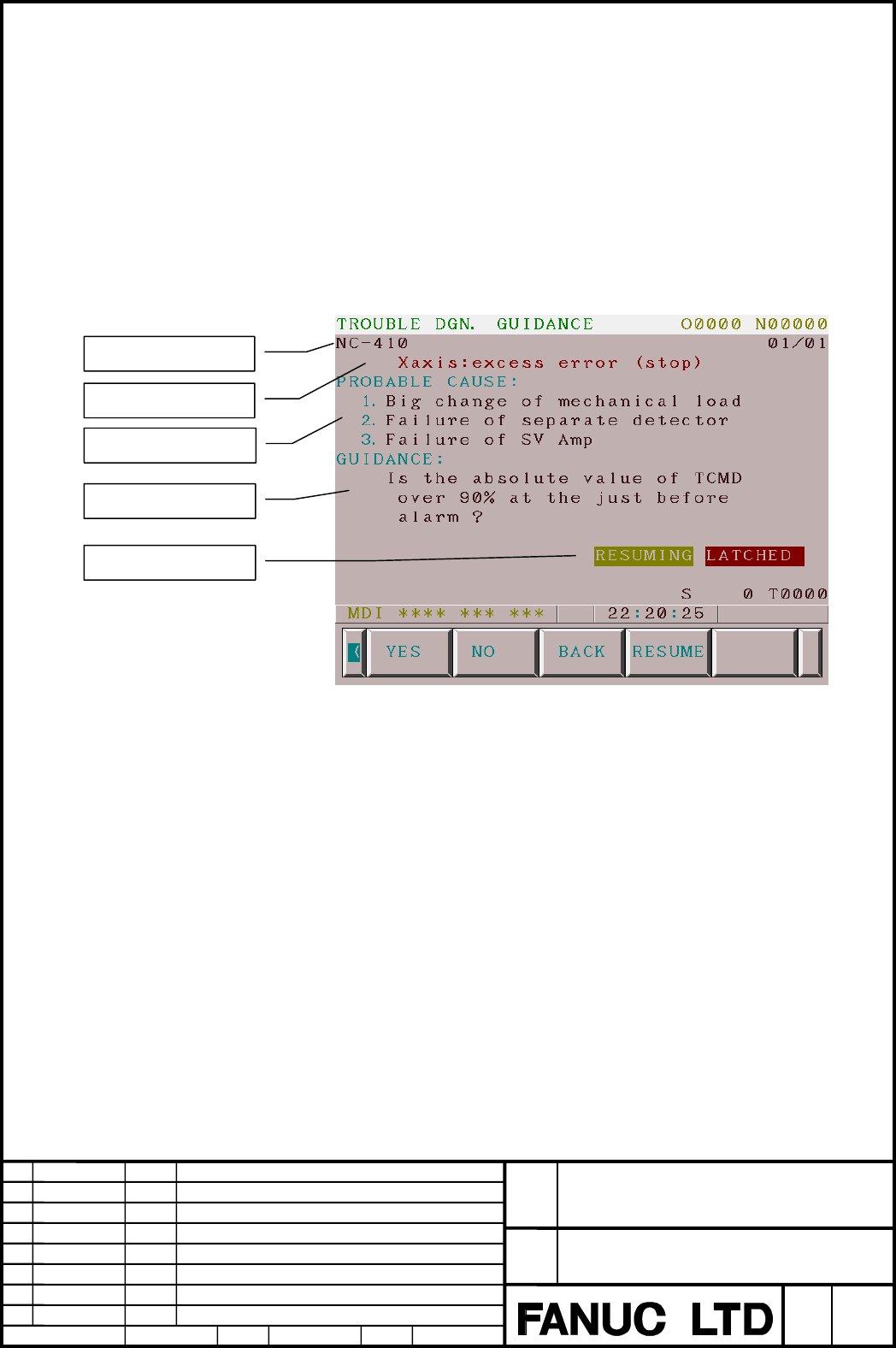 A-78500E
Edit
Apprv.
Sheet
Title
Draw
No.
4/17
Design
Descri
FANUC Series 16
i
/18

i

/21i

-MB/TB
Trouble Diagnosis
Specifications
2001.07.02
M.Kobayashi H.Kochiya
02 2001.10.19 Exchan
e Bit ma
2.
Trouble diagnosis guidance screen
The trouble diagnosis guidance screen displays
the guidance message to investigate the
cause of an alarm.
Display procedure
1. Press function key [Message].
2. Press the continuous menu key [>] and press soft key [GUIDE].
Contents of Display
Trouble Code : Code for identifing alarm.
Contents of Trouble : Alarm Meassage.
Probable Cause : Probable Cause of alarm.
Guidance message : Question to find the cause or
answer to remove trouble is displayed.
Status display
[RESUMING] : When press soft key [RESUME] , the guidance message which was
displayed before CNC power turned off is displayed again. Then [RESUMING]
appears.
[LATCHED]/[SAMPLING] : [LATCHED] shows that
servo/sprindle monitor information is
memorized. Alarm No. in the guidance screen and alarm no. which occurred
when servo/sprindle monitor data was memo
rized may be different. In this case
the diagnosis may not done correctly
. And then [LATCHED] blinks.
[SAMPLING] shows that servo/sprindle
monitor information is not memorized
yet. Servo/spindle monitor information can be referred in Trouble Diagnosis
Monitor Screen.
Guidance message
Probable cause
Contents of trouble
Trouble Code
Status display