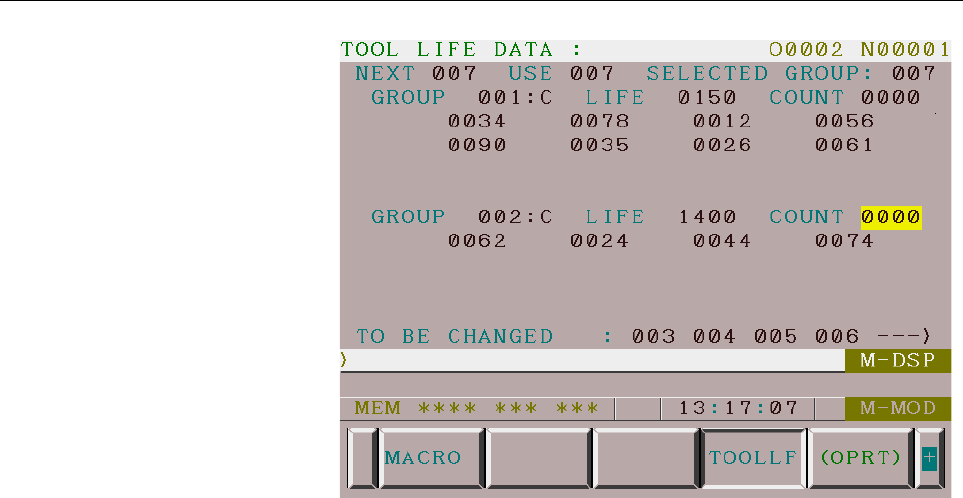 FANUC Series 16
i

/18

i
-TB Compound Machining Function

A-78656E/01
Nov.14.2001 Edition 1
76/127
1.
Press function key [OFFSET]
2.
Press the continuous menu key [+] to display chapter selection soft
key [TOOLLF].
3.
Press soft key [TOOLLF].
4.
One page displays data on two groups. Pressing page key "
↑
" or
"
↓
" successively displays data on the following groups. Up to four
group numbers, for which the tool change signal is being issued, are
displayed at the bottom of each page. An arrow shown in the figure
is displayed for five or more groups, if exists.
5.
To display the page containing the data for a group, enter the group
number and press soft key [NO.SRH]. The cursor can be moved to
an arbitrary group by pressing cursor key "
↑
" or "↓

".
6.
To change the value in the life counter for a group, move the cursor
to the group, enter a new value (four digits), and press [INPUT].
The life counter for the group indicated by the cursor is preset to
the entered value. Other data for the group is not changed.
7.
To reset the tool data, move the cursor on the group to reset, then
press the [(OPRT)], [CLEAR], and [EXEC] soft keys in this order.
ALL execution data for the group indicated by the cursor is cleared
together with the marks (@, #, or *).