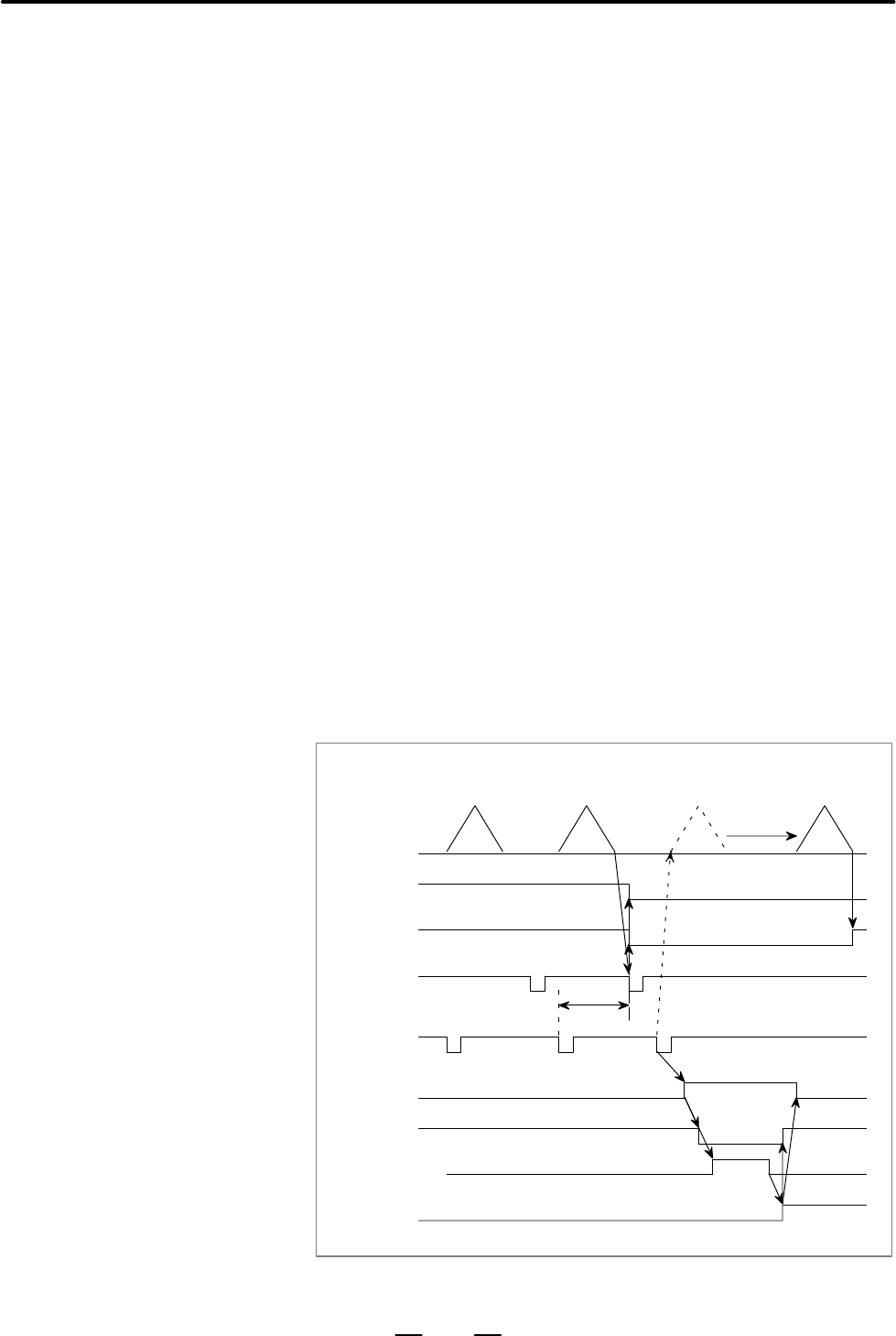 10. WORKPIECE HOLDER INTERFERENCE
AVOIDANCE FUNCTION
165
If the CNC makes a check to find the positioning path before the start of
positioning, and the check reveals interference between the tool area and
workpiece holder area, the CNC sets tool escape signal WHAL (F231#5),
sent to the PMC, to 1, and simultaneously starts positioning.
When the WHAL signal is received, the PMC uses the axis interlock
signal to stop tool movement along the axes. Then, the PMC retracts the
tool to a position (tool escape position shown in Fig. 8) where it does not
interfere with the workpiece holder. After the completion of an escape
operation, the PMC sets tool escape completion signal WHALC
(G232#7) to 1, and also releases the axis interlock signal to restart
positioning.
When the WHALC signal is received, the CNC sets the WHAL signal to
0.
If, during nibbling, the tool enters an interference area during the next
positioning operation, press activation signal PF (Y1004#2) and
continuous press activation in
–
progress signal NBL (Y1004#1) are set to
0 when press activation stop signal *PE (X1004#7) for the current
punching operation is set to 0. Moreover, the WHAL signal is set to 1
when punching completion signal *NFIN (X1004#6) for the continuous
press is set to 0. Then, as in the case where 1
–

cycle press select signal CPS
(G230#2) is set to 1, 1
–

cycle punch operation is performed until the tool
moves out of the interference area.
Axis movement
NBL
PF
*PE
48 ms or
more
*NFIN
WHAL
*IT
Escape
operation
WHALC
Positioning to
interference
area
operation
Fig. 10.1 (a)
10.1
TYPE A
Specification
In nibbling operation